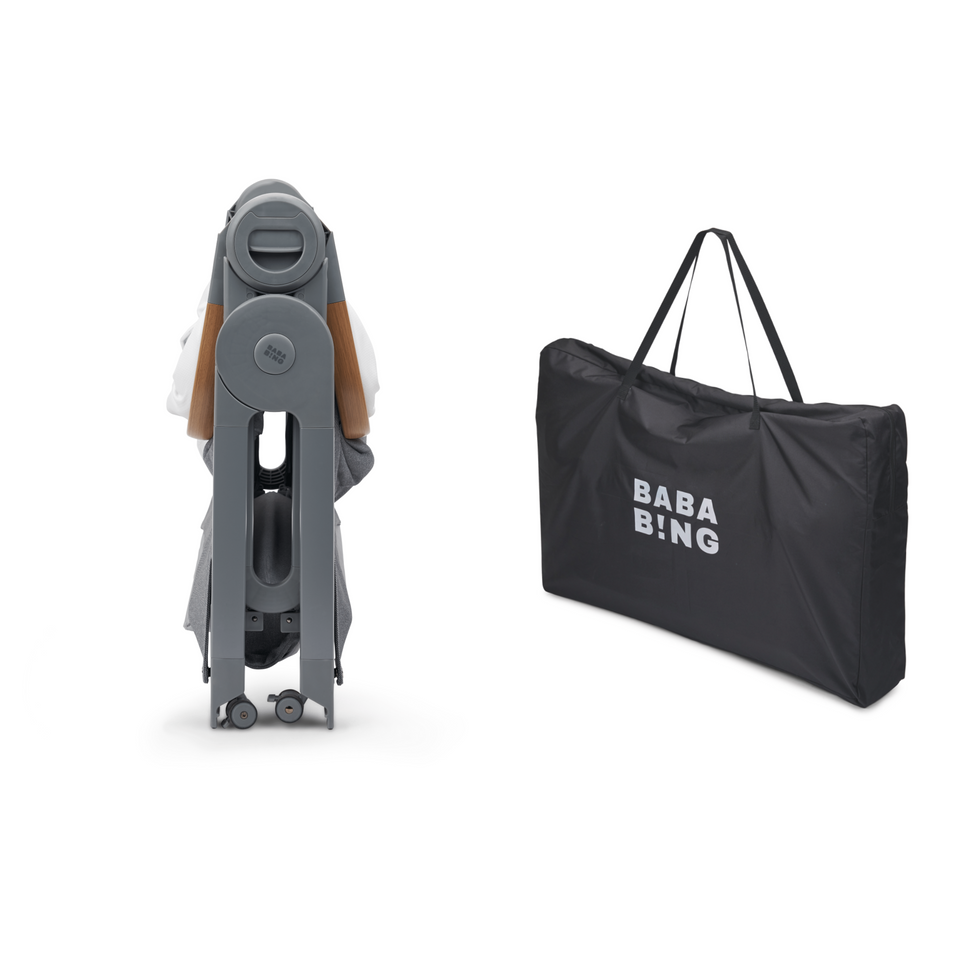 Bababing Bedside & Travel Crib
BB155-001
Free Standard UK Delivery on all orders
Next Day Delivery Available - order before 2pm
How does it make your life easier?
Simple one-click folding

No frustrating dismantling
The first 2-in-1 side sleeper and travel crib

Less stuff to buy and store
Anti-reflux tilt

For a comfier baby (and more rested parents)
Description
The RedDot award-winning Bababing crib doubles up as a compact, lightweight bedside and travel crib, ideal for smaller spaces. It features handy zip-down sides and is adjustable to work with most bed heights. The next-to-me crib also boasts roomy storage for extra space when travelling with your little one. It's made with a soft and breathable inner lining (Kose Cool) to provide ultimate comfort at home or away. Result.
Product Features
Easy one-click folding – no dismantling required
Kose Cool breathable lining with netted zip-down sides
Modern wood-effect design
Made from machine washable materials
Safety tested to the latest bedside crib standards
5 height levels to match most bed heights
Tilted anti-reflux position
Roomy under storage
Handy travel bag included
Fully lockable wheels
Specification
Suitable from birth to approximately 6 months
Inner crib: L: 83cm x W: 49cm
Lowest position height: 72cm
Highest position hight: 84cm
Weight: 8kg
DELIVERY INFORMATION
| | | | |
| --- | --- | --- | --- |
| Delivery Service | Price | Delivery Time | Notes |
| UK Standard | FREE | 2 - 3 working days | Order by 2pm for same day dispatch |
| UK Next Day | £6.95 | Next Business Day (7am - 6pm) | Order must be placed by 2pm. Text and E-mail notification of 1 hour delivery slot |
| UK Saturday | £15.00 | Saturday (7am - 6pm) | Order must be placed by 2pm. Text and E-mail notification of 1 hour delivery slot |
| International (Europe) | £19.99 | 5 - 10 working days | Tracked to Customer |
| International | £35.00 | 5 - 10 working days | Tracked to customer |
RETURNS INFORMATION
We want you to be delighted with every BabaBing! product. Occasionally though, we know you may want to return items, so below is our refund policy.
We accept the return of items only if they are unopened and in their original condition so that the item(s) can be put back on resale once returned and received. If you return goods, as detailed, within 14 days of purchase date, we will issue a full refund for the price you paid for the item minus the cost of next day delivery/Saturday delivery should this option be selected at the time of order.
Should the Raffi Travel System require a refund, a small uplift and re-boxing charge will be deducted on refund. The refund will also be made on the proviso that existing packaging materials are also still present.
Please Note: Any returned item(s) from a Special Offers/Bundled purchase will ONLY be refunded to the full amount - (minus) the discount obtained when taking advantage of the Special Offers/Bundled discount.
AWARD-WINNING
2-IN-1 CRIB.
Our RedDot award-winning Crib is the first sidesleeper crib that doubles as a travel crib, with no need to dismantle any parts. It's quick and easy one-click folding means you can pack this compact nursery essential into your car without losing space for bags, prams, and all the other babycare stuff you have to cart around. Result.
SANITY-SAVING
FEATURES.
The crib is made with a luxury, soft, breathable inner lining (Kose Cool™ lining) and is safety tested to the latest bedside crib standards.
It features zip-down sides, lockable wheels and a handy travel bag. Plus 5 height levels to match various bed heights, and a single-side tilt adjustment to help babies with reflux.